Dennard's scaling rules observe that voltage and current should be proportional to the linear dimensions of a transistor, implying that power consumption (the product of voltage and current) will be proportional to the area of a transistor. This property implies that shrunk MOSFETs will consume less power, and forms the basis of Moore's Law. (source 8)
The projected end with current technologies (Silicon) is between 10 and 7 nm. Check our post 
Molybdenite and graphene to the helping hand
9
 for what can come as an alternative.
Current mobile GPUs are baked on 32 and even 45 nm, but will soon go under 25 nm. Nevertheless, this does not give the mobile GPUs an advantage over desktop GPUs.
Voltage scaling
Jan talks about "reduced capacitance of yet smaller devices" and V
dd
. Smaller chip-sizes make it possible to work with less volts. V
dd
is the voltage hooked up to the chip from outside. As explained in the tweets, this has gone down over the years.
(You can check out this
PDF
10
of OCW-course "
Microelectronic Devices and Circuits
11
" about scaling to learn more.)
Voltage can go down for other processors too.  So not a strong reason why Imagination would go from 70 to 1000 GFLOPS, while desktop GPUs go from around 4000 to around 4000. But as mobile processors tend to be smaller, there is some advantage.
A side-note: another explanation is that the power-usage maximum will be loosened. Then the 1 TFLOPS GPU would not give maximum performance when on battery power.
Area Scaling
Years ago ARM's chips were under 10 mm
2
(!), GPUs larger. Intel's CPUs have been over 100 mm2 for years, even with shrinking die-size.
Mobile chips therefore had an advantage over X86, but now they are getting less advantage with die-sizes over 100 mm
2
. See below for what CPU+GPU in the X86-world take for an area.




Trinity Physical Comparison (source: Anandtech 12)






Manufacturing Process


Die Size


Transistor Count




AMD Llano


32 nm


228 mm2


1.178B




AMD Trinity


32 nm


246 mm2


1.303B




Intel Sandy Bridge (4C)


32 nm


216 mm2


1.16B




Intel Ivy Bridge (4C)


22nm


160mm2


1.4B




Seems that here's the stretchiest of all. But it also has its limits due to power-usage. Given the fact that larger chips use more power, it still has its limits.
"Many tricks to come"
Jan mentions tricks are also helping, mentioning a memory-transfer optimisation. ARM and Imagination are known to have a lot of expertise and IP in SOC-optimisations, low-power and memory-transfers; something with which AMD and Intel have just started.
In the below graph (taken from the article "
Processors that can do 20+ GFLOPS per Watt
13
") you see the desktop GPUs (yellow) and the mobile processors (light-blue). The empty area at the upper-right is where most interest is. Could they end up right of the desktop GPUs? The question is still how big that advantage can be.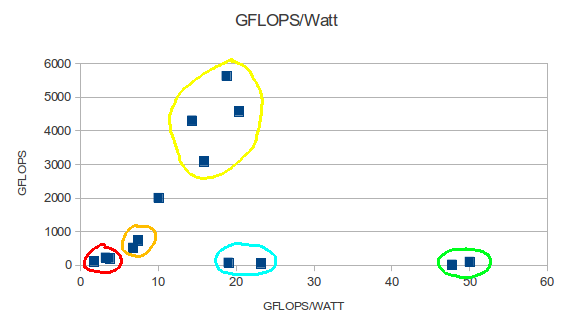 One of the reasons to co-organise the
LEAP-conference
14
is exactly to get answers to that one question.
Why would vendors of low-power processors outpace both Moore's law and desktop GPUs?
Jan and David shared their opinion, but I would really like to hear form the manufacturers themselves.
You are very welcome to give your own views in the comments!
Also, if you have found interesting articles (partly) answering this question, please share them with the other readers...
You can join the discussion on Twitter about mobile GPUs reaching 1 TFLOPS at #terascale 15.