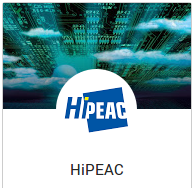 We have several wishes for 2017 and two of them are to make code for the open source community. Luckily HiPEAC is interested in more collaboration between academia and industry and therefore funds PhD internships. There are 81 industrial PhD internships available and two are at StreamHPC.
What is this industrial PhD internship, you may ask? From the HiPEAC homepage:
The HiPEAC Industrial PhD Internship Programme offers PhD students a unique opportunity to experience the industrial research environment and to work on R&D projects solving real problems. To date the internship programme has resulted in several joint paper publications, patent applications and many students have been hired by the companies after completion of their PhDs.

The internships cover a 3-month period. Students should indicate when they will be available for an internship during 2016. When you apply for one of the internships, you must update your profile page including a link to your CV (preferably in PDF format).
Every intern receives €55 per day (€5000 for 3 months) + travel expenses (maximum €500). The main goal is to gain experience. Even if you don't get a job after the internship, you tap into our network.